Description
Moroccan Serving Tagine
This tagine should be used only for serving your fabulous dishes that are pre-cooked.
Care: wash it with a soapy sponge.
Could be machine washable, do not use in microwave.
Tribal Village serving tagines are handmade so they have imperfections, the beauty of human endeavor.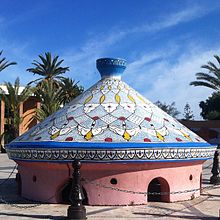 Tagine Statue in Fez, Morocco
The traditional tajine pottery, sometimes painted or glazed, consists of two parts: a circular base unit that is flat with low sides and a large cone- or dome-shaped cover that sits on the base during cooking.
The cover is designed to return all condensation to the bottom.
That process can be improved by adding cold water into the specially designed well at the top of the lid.
A tagine is an important part of Moroccan cuisine and has been a part of the culture for hundreds of years.
The word tagine actually has two meanings. First, it refers to a type of North African cookware traditionally made of clay or ceramic.
The bottom is a wide, shallow circular dish used for both cooking and serving,
while the top of the tagine is distinctively shaped into a rounded dome or cone.
Second, the word tagine also refers to the succulent, stew-like dish which is slow-cooked in the traditional cookware.
Typically, a tagine is a rich mixture of meat, poultry, or fish, and most often includes vegetables or fruit. Vegetables may also be cooked alone in the tagine.
Most people agree that the tagine's origin dates back to the late 18th century when Harun al Rashid ruled the Islamic Empire.
However, there is another school of thought that the use of ceramics in Moroccan cooking is probably of Roman influence; Romans were known for their ceramics and likely brought that tradition to their rule of Roman Africa.
Either way, the first appearance of recipes cooked tagine-style appeared in the 9th century in the publication The Thousand and One Nights.
Tagine the Vessel
Today, ceramic tagines are practical yet exquisite examples of Moroccan artisanship,
and many are showpieces as well as functional cooking vessels.
Some tagines, however, are intended only to be used as decorative serving dishes.
The cooking vessel is made of clay or ceramic
(although some Western cookware companies are now making tagines from other materials)
and can be left as is or coated in a glaze.
Unglazed clay tagines are favored by many cooks for the unique earthy nuance they impart to dishes.
Tagines come in all sizes; the smallest might hold enough food for one or two people, while the largest can hold a meal for eight people or more.
The purpose of the dome- or cone-shaped top is to return moisture to the base of the tagine, creating a moist and flavorful dish.