---
The Inspirational Team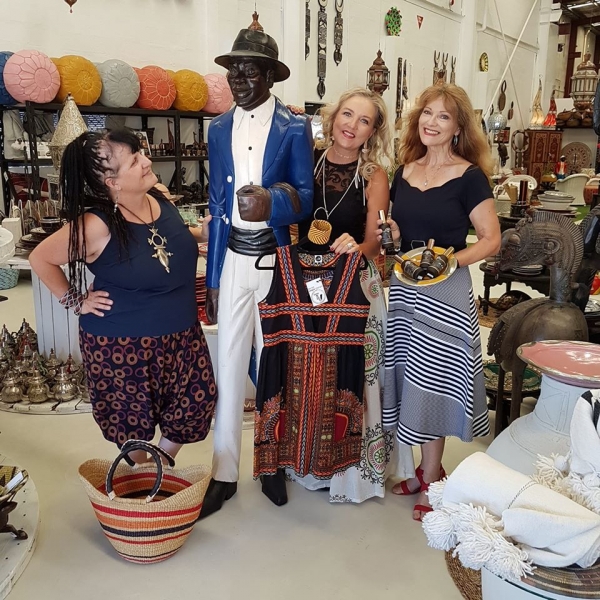 From left, Jazzy Oboh of Tribal Village, Thelna Esterhuizen of EstbyThelna and Brenda Malcolm, founder of Beldi Moroccan Argan Oil
---
The quiet Achiever 'Fashion Designer, Thelna Esterhuizen
When you first meet Thelna Esterhuizen you'd agree she is this mild-mannered humble individual. Unique in appearance and always elegantly dressed in her own creations right down to the last accessory. But dig a little deeper, (because she isn't going to brag about who she is, she's just not that kind of girl) and suddenly you realise your standing in the presence of an amazing woman who has achieved so much in the short time span of 9 years as a fashion designer.
Thelna's previous life as an interior decorator, business owner, and project manager meant her 'passion for fashion' always took backstage until 2011 when she decided to make the move and launch herself fully into her label, 'Estbythlna'.
Thelna has dressed the famous Brisbane born international supermodel Madeleine Stuart and self-published her own magazine 'Being Est'. She's a courageous woman that doesn't hesitate to uplift any woman she meets. The ethos behind her brand is to make every person feel special and she does that by creating completely individual designs that fit them perfectly.
The unassuming Thelna Esterhuizen appeared on Perth shores about 2 years ago having moved from Bahrain, where all her clothes are currently sewn by her talented tailor Ravi.
Perth needs to watch out for Thelna, she's here and she's not going away any time soon. She's made this her home and is set to make her mark on the Perth fashion scene.
---
A trip to Morocco and the discovery of the amazing indigenous argan oil was the catalyst for Brenda Malcolm (founder of Beldi 100% pure organic Argan Oil) wanting to create her own branded product and bring it to the world! With an entrepreneurial creative background and a deep desire to help others, it was the perfect, natural, plant-based choice. Not only did this amazing 'liquid gold' product encompass Brenda's passion for health and wellness, but it also fuelled her heart by helping the people of Morocco.
"Beldi supports fair trade and local industry and the development of the brand has been a journey of pride"
Beldi 100% Moroccan Argan Oil is an ancient 'beauty elixir' for hair, skin, and nails. Pure, organic and cold-pressed, Beldi is vegan, eco-certified and never tested on animals. Age-defying Argan Oil is full of antioxidants and is known as 'liquid gold.' It is considered to be the most expensive oil in the world. The amber-hued oil originated on Morocco's south-west coast and is derived from the fruit of the native Argan tree, otherwise known as the 'tree of life.' Since at least 600 BCE, the Phoenicians relied on the oil for healing and beauty and for centuries since life in that corner of the world (most notably for the North African Berber people) has been deeply connected to the tree's deep roots.
Beldi Argan Oil is ethically sourced from the Argan tree in the Arganeraie Biosphere Reserve – a UNESCO protected area in south-west Morocco and is a natural 'feel-good' product. Not only will you benefit from its use, but every purchase of Beldi helps support the local Berber Women's Cooperatives (who hand-pick the Argan nuts and process the Argan Oil) so they, in turn, can support their families. Beldi also supports the Bayti Association – a Non-Government Organisation with a mission to protect street children from all forms of exclusion and exploitation.
---
Models will be wearing Arbonne botanically-based vegan skincare & makeup
---
Be entertained
By Perth Group
Led by Perth local and Master Dance Teacher, Richelle Spencer (2nd from the right), this organic, earthy, grounded styling is an invigorating, and elegant fusion based on urban, folk, ritual, trance, bellydance, and modern dances. Incorporating an eclectic mix of North African, Egyptian, Moroccan, Arabic, Spanish, Tunisian, Indian and other cultures, this tribal style has evolved into a modern & contemporary dance. A rich blend of contemporary movement fused with influences across the globe, based on a common non-verbal language of movements, using a lead and follow format and group improvisation, is aesthetically pleasing, spiritually grounding, and physically rewarding. This dance evokes a feeling of ancient times, of tribal spirit and camaraderie, of family, of community, of personal freedom, it is important for it to be recognized as a dance of today. It is a dance for all of us. The community aspect of the dance, the circle, with its exciting creative synchronicity, brings dancers together in total acceptance and support of each other, as they create powerful, feminine magic together.
This amazing group of ladies will get you in the mood for an evening full of fun and fashion.
---
Our group of Sponsors have all joined forces to offer their services and time to ensure the evening is a great success.
The people behind these brands all share a common thread, a willingness to exercise community, humanity and goodwill. Tribal Village is proud to stand beside each and every brand and highly recommend them at your next function or event.
---